A play by Franz Xaver Kroetz
At the end of a typical work day, a woman returns to her apartment and closes the door. She changes her clothes, prepares a simple meal, listens to the radio, dedicates some time to a craft hobby, cleans up, showers, prepares for bed. One final devastating act occurs as the play's climax. The entire performance is conducted in real time, over 70minutes, without a single word uttered. This silent monologue is a portrait of loneliness, arguably more relevant and devastating today than fifty years ago when the play was written. Through its meticulous observation of the mundane, the central character, though mute, speaks for all the voiceless and socially isolated individuals in our community. Current social research reveals the depth of our loneliness. In 2018, Australian Psychological Society in conjunction with Swinburne University of Technology published research that showed 25% of all Australians reported feeling lonely for most of every week. For leading social researcher Hugh Mackay, this one in four statistic points to a '… virtual epidemic of loneliness' even before the Covid-19 pandemic hit. A team of Tasmania's finest performing artists and designers will craft the Tasmanian Premiere of this remarkable work. Within the intimate setting of Detached Gallery, you are invited to experience this silent meditation, this performance of a show that has been described by The New York Times as a 'living centre of an installation,' and 'devastating, heart-wrenching, extraordinary.'
Showtimes:
Friday 5 August, 7pm
Saturday 6 August, 7pm
Sunday 7 August, 4pm
Friday 12 August, 7pm
Saturday 13 August, 7pm
Sunday 14 August, 4pm
Duration: 1 hour, 10 minutes – no interval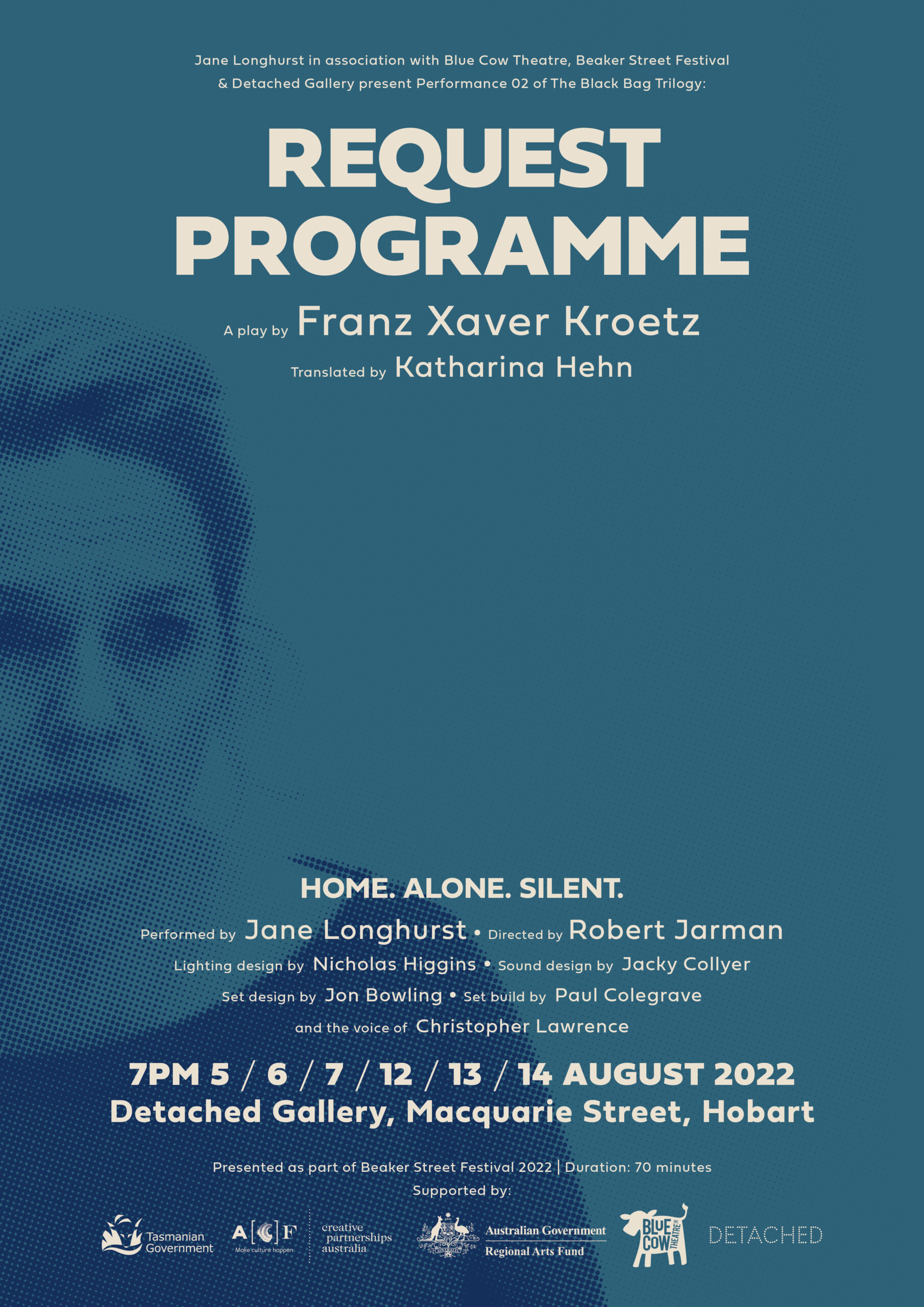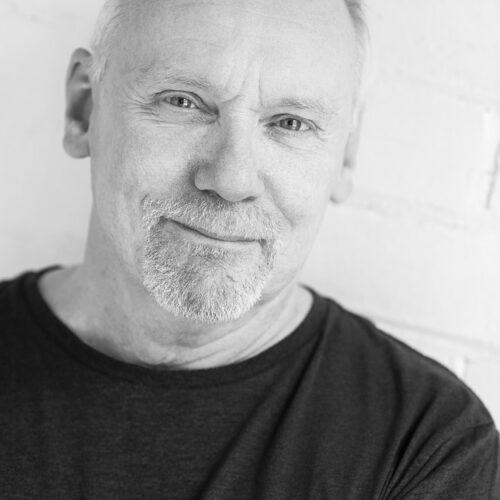 Robert has directed and/or performed for all major Tasmanian companies, including Zootango, Theatre Royal, Terrapin Puppet Theatre, Tasmania Performs, Salamanca Theatre Co., Is Theatre, Tasmanian Theatre Co., Australian Script Centre, Tasmanian Symphony Orchestra, IHOS Opera, Bel Canto Opera, Tasmanian Conservatorium of Music, Festival of Voices, TasDance, Two Turns Dance, as well as numerous community-based and independent projects. 
Beyond Tasmania Robert has worked with Music Theatre Sydney, Australian Institute of Music, OzOpera, One Extra Dance Co., Melbourne Comedy Festival, JUTE, The Marais Project, La Boite, and internationally with Ashtar Theatre in Ramallah, Palestine. Robert's work has featured in all Ten Days on the Island festivals. He is the recipient six Tasmanian Theatre Awards for directing, acting and a Lifetime Achievement Award, the Federation Medal for services to the performing arts, and is well into his fourth decade as a proud member of the Media Entertainment Arts Alliance.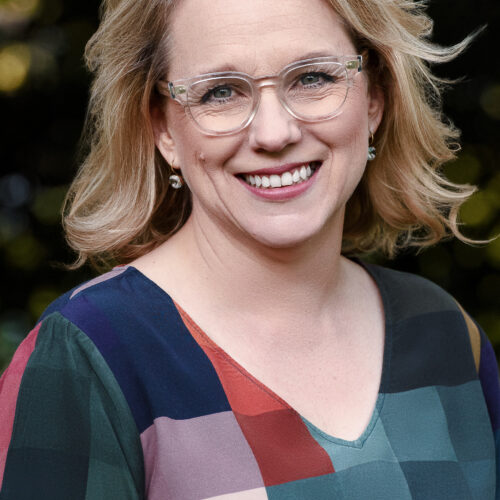 Jane Longhurst is an award-winning actor, broadcaster, voice artist and popular presenter of events big and small. She has worked extensively in theatre, television and radio since graduating from the Victorian College of the Arts. Her television credits include
Rosehaven, Death or Liberty,
Blue Heelers, Janus
and an AFI Award winning episode of
GP. 
Jane's recent theatre credits include the first performance of her Black Bag Trilogy: Happy Days by Samuel Beckett, supported by Blue Cow Theatre (Mona Foma 2021), the critically acclaimed The Mares by Kate Mulvany for Tasmanian Theatre Company and The Winter's Tale and Hamlet by William Shakespeare for Blue Cow Theatre staged at the Tasmanian Museum and Art Gallery. Other roles for Blue Cow include Grounded (Best Professional Performance in a Leading Role 2016), The Events by David Grieg and Terminus by Mark O'Rowe. Jane played Martha in two sold out productions of Who's Afraid of Virginia Woolf? by Edward Albee, produced by Tasmanian Theatre Company and staged in the iconic Dorney House, lower Sandy Bay. This production was the winner of Best Professional Ensemble at the 2015 Tasmanian Theatre Awards.
Jane is also an emerging director of text and creator of live performance. In 2021, Jane directed a University of Tasmania student-devised performance, Set in Stone at the Inveresk campus, Launceston. For the inaugural Burning Desires festival held in Hobart in November 2020, Jane directed a play-reading of Do Not Go Gentle by Patricia Cornelius. Site specific work includes co-creating The Green Room with sound designer Dylan Sheridan and providing the voice over for Patricia Piccinini and Peter Hennessey's work The Shadows Calling, presented by Detached in association with Dark MOFO in 2015.
A popular fill in presenter and producer on ABC Local Radio, (including ABC Rural, ABC Grandstand and ABC Classic) Jane also regularly presents concerts with the Tasmanian Symphony Orchestra.
Nicholas Higgins

Lighting Design
Jacky Collyer

Sound Design
Jon Bowling

Set Design
Paul Colegrave

Set Build
A Seat at the Table

Beaker Street Festival's pay-it-forward initiative, A Seat at the Table, helps make our science and art offerings accessible to those who can't afford to purchase a ticket. Ticket buyers have the option to donate towards the cost of a stranger's ticket. You won't know who you've helped, but your donation will go directly to allowing someone else to access this great event.
Need a seat at the table? Email: [email protected] with your name, email address, post code, your age (if you don't mind – it helps us gather data), which event you're interested in, and whether you would like one or two tickets. Your information will never be shared or made public. If we can offer you a seat, we'll notify you by email within a week of the event.