We've packaged up our entire Festival program into a stunning holiday for two, including accommodation, dinners, and all the Festival highlights!
Take in all the Beaker Street Festival Hub programming at the Tasmanian Museum and Art Gallery and Dr Karl Live at the Odeon Theatre in Hobart. Then continue along the Tassie Science Road Trip, stopping in Cradle Mountain, Launceston, and the East Coast. The Full Beaker includes nine nights premium accommodation at Hadley's Orient Hotel, Lemonthyme Wilderness Retreat, Peppers Silo Hotel, and Spring Bay Mill. You'll also get all the Road Trip scientist talks and dinners, and entry to NOCTURNA — Beaker Street Festival's Dark Sky finale party.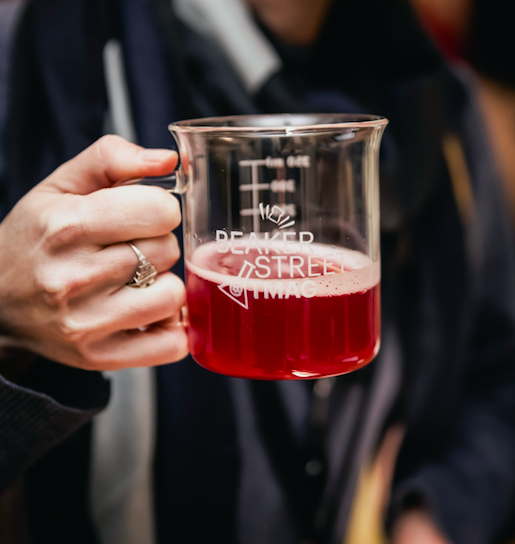 Discover lutruwita/Tasmania through the lens of science with The Full Beaker — a 10-day immersive adventure around the state.
One ticket, ten days of science and art across lutruwita/Tasmania for two adults.
There are a very limited number of these packages available, just so y'know.
The cost of the Full Beaker package for two is $5000 and includes:
Stop #1 Hobart (5-8 August)
Hadley's Orient Hotel in Hobart (3 nights accommodation in a Superior room with continental breakfast).
VIP access to all ticketed events at our Festival Hub at the Tasmanian Museum and Art Gallery (seven ticketed events on the evenings 5-6 August)
Tickets to Dr Karl's show at the Odeon Theatre (6 August)
A Beaker Street welcome pack, featuring our signature beakers and a selection of delectable local products, plus an invitation to a drinks event with Dr Karl at the Orient Bar at Hadley's (7 August)
Stop #2 Cradle Mountain (8-10 August)
Lemonthyme Wilderness Retreat at Cradle Mountain (2 nights accommodation in a Deluxe Wilderness Cabin with breakfast included)
Talk and 3-course dinner with Professor Greg Jordan and Dr Karl (8 August)

Guided walk with Prof Greg Jordan and Road Trip MC/science journalist Zoe Kean at Cradle Mountain (9 August)
Stop #3 Launceston (10-12 August)
Peppers Silo Launceston (two nights accommodation in a Gorge River room)
Talk and canapés with Dr Karl and Professor Darla Hatton MacDonald (10 August)
Guided walk with Zoe Kean at Tamar Island Wetlands Centre (11 August)

Chef's FeedMe Menu Dinner at Grain of the Silos restaurant with Dr Karl and Prof Darla Hatton MacDonald (11 August)
Stop #4 Triabunna (12-14 August)
Spring Bay Mill (two nights accommodation in a Ridge Quarter pod)
Dark Sky Dinner with Professor Catriona Hurd and Professor Phil Boyd (12 August)
Launch of Soma Lumia's "No Entry When Mill is Operating" (12 August)
Entry to NOCTURNA — Beaker Street's finale Dark Sky Party, featuring telescopes, astronomy, art, science, music, East Coast food and drink, and a feature performance of When Water Falls (13 August)
BYO Car or get 15% off from Drive Car Hire using code BEAKER.
COST for 2 adults: $5,000 inclusive
Want to book the Full Beaker or have a question?
We may also be able to create a custom package if you want to do most of the Trip, but can't do it all.
Note we only have a few of these packages available and they won't last long.
The Tassie Science Road Trip is presented by Beaker Street Festival in partnership with