Session One — Saturday August 7th, Festival Hub @ TMAG
Maggie Walter & Tas van Ommen
With Auslan Interpretation
Jump head first into the Festival on Saturday night with these brilliant back-to-back talks from Distinguished Professor Maggie Walter and Dr Tas van Ommen. Two fascinating talks from two powerhouse speakers on observing our climate, and the importance of Indigenous data sovereignty.
Buy Tickets
Pursuing Data Sovereignty in Lutruwita
How much does non-Indigenous Tasmania know about the Palawa population in lutruwita? The answer is — even when being generous — not much. And what is known, as elsewhere, is a function of how the State 'sees' its Indigenous population. The results are data that resolutely focus on measures of social inequality such as health, employment and education. This statistical narrative of deficit produces two pejorative outcomes. As the evidence base for Indigenous-related policy, such data are directly implicated in the long record of Indigenous policy failure. The deficit focus also excludes the production of data needed by Palawa for nation rebuilding. Globally, the Indigenous response to this data issue is the pursuit of Indigenous data sovereignty; the right of Indigenous Peoples to govern the collection, management access, interpretation, dissemination and reuse of data related to them. This presentation by Distinguished Professor Maggie Walter unpacks the need for Indigenous Data Sovereignty in lutruwita.
Maggie Walter (PhD; FASSA) is
Palawa,
a member of the larger Briggs Tasmanian Aboriginal family. She is Distinguished Professor of Sociology at the University of Tasmania and was the inaugural Pro Vice Chancellor Aboriginal Research and Leadership at the University (2015-2020). Professor Walter's research develops alternative empirical evidence and theoretical explanations of the embedded inequity of Aboriginal and Torres Strait Islander People in Australian society. Within this she is a national and international leader in the Indigenous data sovereignty movement.  Related publications include:
Indigenous Statistics: A Quantitative Research Methodology
(co-authored with C. Andersen 2013 Routledge – now cited more than 430 times) and
Indigenous Data Sovereignty and Social Policy
(with Tahu Kukutai; Stephanie Russo Carroll and Desi Rodriguez Lonebear, Routledge, 2020). In May 2021, Professor Walter was appointed a Commissioner with the Yoo-rrook Justice Commission in Victoria and is moving to Emerita Professor status with the University of Tasmania.
Ice and Climate – Using the past to understand our future
Ice cores from Antarctica are like a time machine for the Earth. They reveal the detailed history of the atmosphere trapped among snowflakes and buried in the polar ice sheets: powerful tools for understanding climate, from seasons to the ice ages.  Ice cores show in stark relief that humans have become a planetary force and illustrate powerfully the connection between carbon dioxide and climate. They also point the way to understanding connections and improving our capacity to know our climate future. In this presentation Dr Tas van Ommen will show what it is like drilling ice cores in remote Antarctica, revealing some of the major findings in this field and outlining a large new project underway to drill the oldest ice core from Antarctica, extending more a million years into the past.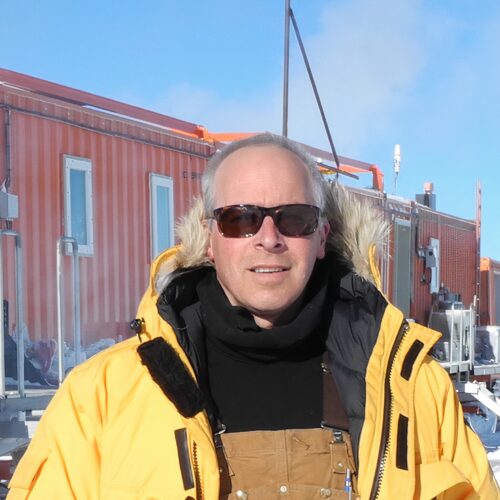 Tas van Ommen leads the Antarctic Climate Program with the Australian Antarctic Division (AAD). He is a physicist and glaciologist, gaining a PhD in astronomy at University of Tasmania in 1993. He has held positions at University of Tasmania, NASA, and the AAD. His specialty areas of research are the study of past climate using ice cores and airborne studies of the Antarctic ice sheet. His work
includes use of ice cores to identify links between Antarctic snowfall and Australian drought, and extensive mapping of the topography of East Antarctica. He oversees Australia's new project to drill the oldest ice core from Antarctica, well beyond a million years. His six field expeditions to Antarctica, include deep ice coring camps, over snow traverse and airborne campaigns.
Doors open at 6pm, talks begin at 6:20.
This is a 50-minute session, ending at 7:10pm.
COVID-19 Entry Conditions
All visitors 16 years and older are required to register their details on entry via the Check In TAS app. Please maintain social distancing especially when queueing or at our bars. If you are unwell, please stay home.
For visitors to the Tasmanian Museum and Art Gallery (TMAG)
Due to capacity limits at our Festival Hub at TMAG, patrons may be required to wait for admission to the site. Ticket holders for pre- booked talks will be given priority entry to TMAG, but may be asked to move directly to the talk venue.

Cancellations and Late Arrivals for events at TMAG
If for any reason you cannot attend your event, refunds will be available up to 1 day before your event. The Festival cannot guarantee refunds beyond that window. Event organisers reserve the right to reallocate your seats if you or your party have not claimed your seats within 15 minutes of the advertised start time of the talks or events.
Accessibility
The Tasmanian Museum and Art Gallery is fully accessible. If you have any questions about specific requirements, ring TMAG on (03) 6165 7000.

A Seat at the Table
Beaker Street Festival's pay-it-forward initiative, A Seat at the Table, helps make our science and art offerings accessible to those who can't afford to purchase a ticket. Ticket buyers have the option to donate towards the cost of a stranger's ticket. You won't know who you've helped, but your donation will go directly to allowing someone else to access this great event.
Need a seat at the table? Email: [email protected] with your name, email address, post code, your age (if you don't mind – it helps us gather data), which event you're interested in, and whether you would like one or two tickets. Your information will never be shared or made public. If we can offer you a seat, we'll notify you by email within a week of the event.