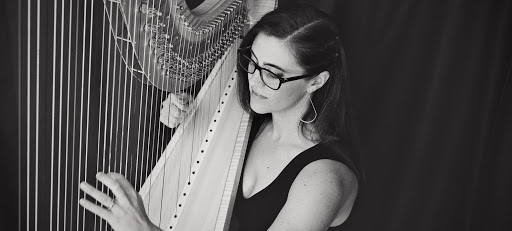 Emily is a harpist, vocalist, violinist and loop artist based in Launceston, Tasmania.  She is also a registered Occupational Therapist and therapeutic musician.  Emily took an unusual path in becoming a professional musician; after classical training in violin from a young age, she started learning the harp in her late twenties as a hobby whilst working as a health professional.  With a combination of hard work and opportunity Emily organically found herself firmly ensconced in a new career.
Emily plays a wide range of musical genres on the harp including classical, folk, jazz & blues.  She specialises in creating contemporary arrangements, original compositions, improvisations and experimentation with percussion, electronic effects and looping.  Emily relishes any opportunity to depart from the type of music audiences expect to hear from a harp.  With the use of her loopstation, Emily is able to combine harp, vocals, violin, effects and percussion into her solo performance creating a complex, multi-layered sound.  She is also able to present the harp as a solo acoustic instrument for a traditional sound when the occasion requires it.
Session Two — Saturday August 7th, Festival Hub @ TMAG
Tasmanian harpist and Beaker Street favourite, Emily Sanzaro, returns to the Beaker Street Festival! See Emily play the main stage and be wow'd by her covers, originals, and improvisation. Raw, ragged, and sharp-as-a-tack — you won't want to miss this one! 
Doors open 7:20pm, performance begins at 7:30.
This is a 50 minute session.
Free event, subject to capacity.
COVID-19 Entry Conditions
We are committed to ensuring the wellbeing and safety of our visitors and staff as we face the challenges of COVID-19. All visitors 16 years and older are required to register their details on entry to TMAG for the Beaker Street Festival via the Check In TAS app.
Due to capacity limits at TMAG, patrons may be required to wait for admission to the site. Ticket holders for pre- booked talks will be given priority entry to TMAG, but may be asked to move directly to the talk venue.
If you are unwell, please stay home.
Cancellations and Late Arrivals
If for any reason you cannot attend your event, refunds will be available up to 2 hours prior to the start time of your event. The Festival cannot guarantee refunds beyond that window. Event organisers reserve the right to reallocate your seats if you or your party have not claimed your seats within 15 minutes of the advertised start time of the talks.