Cruise around Bruny Island with scientific commentary from Professor Craig Johnson
Bruny Island Cruises is an award-winning 3 Hour Wilderness Cruise exploring the rugged coastline of Bruny Island in southern Tasmania. On this special cruise as part of Beaker Street Festival, you'll hear from Professor Craig Johnson, Head of the Ecology & Biodiversity Centre at the Institute for Marine & Antarctic Studies (IMAS) and Associate Director of IMAS, aboard the Bruny Island Cruise. Craig will add commentary about his research on the devastating disappearance of Tasmania's giant kelp forests, and a promising new project running trials, in collaboration with the weetapoona Aboriginal Corporation, to restore giant kelp.
Cruise alongside some of Australia's highest sea cliffs, beneath towering crags and drift up close to listen to the awesome 'Breathing Rock'. Enter deep sea caves, pass through the narrow gap between the coast and 'The Monument' and feel the power of nature at the point where the Tasman Sea meets the might of the Southern Ocean.
Join in the search for the abundant coastal wildlife such as seals, dolphins, migrating whales and sea birds. The highly trained interpretive guides love what they do – they work hard to ensure that the experience is fun, enjoyable, entertaining and informative.
The custom-built yellow boats are ideal for viewing the spectacular coastline and wildlife of Bruny Island. Each vessel holds a maximum of 43 guests. Covered open-air tiered seating means an excellent all-round view and connection with the environment. The boats are safe, comfortable and gentle on the environment due to their fuel efficiency, low emission and quiet operation.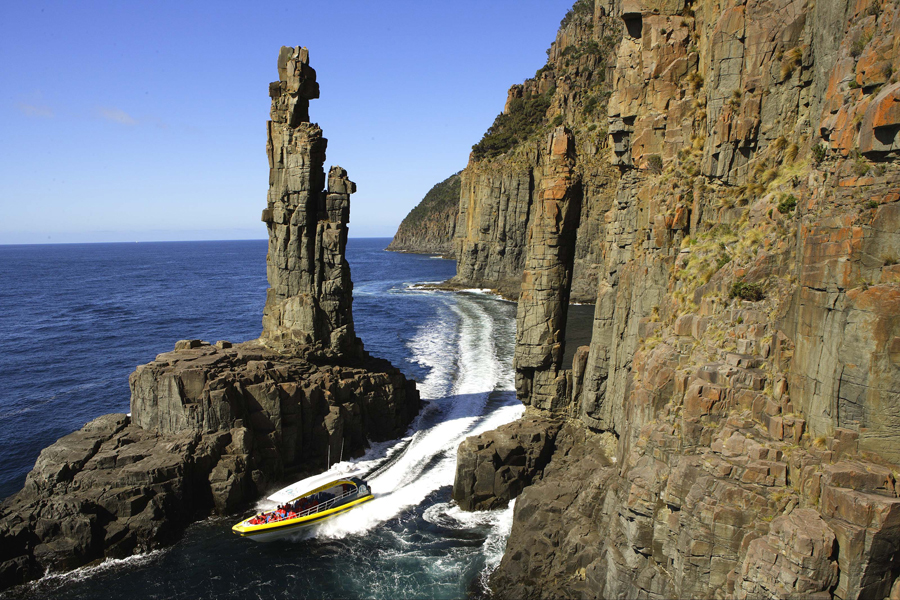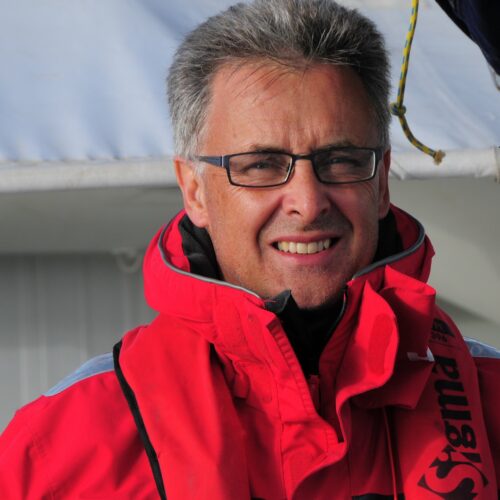 Professor Craig Johnson is Head of the Ecology & Biodiversity Centre at the Institute for Marine & Antarctic Studies (IMAS), and Associate Director of IMAS. He is a marine community ecologist interested in identifying the drivers of marine community dynamics, and how to interpret change in marine communities. He works mostly with shallow reef systems, but current work also includes the Southern Ocean. His work is evenly divided between field programs and computer modelling, and across animals and seaweeds. He leads a productive group of postdoctoral fellows and graduate students.

Craig completed his PhD in Nova Scotia in Canada in 1985, and he subsequently worked at the Bedford Institute of Oceanography in Canada, Marine Biology Institute at the University of Cape Town, Australian Institute of Marine Science, Griffith University, and in the Department of Zoology at the University of Queensland before moving to take up the Chair in Zoology at the University of Tasmania in 1997.His research is broadly concerned with the space-time dynamics of marine ecosystems, encompassing interactions among suites of organisms spanning bacteria, algae, invertebrates and fish. Most of his work has focused on temperate and tropical reefs, but is now expanding to include ecological dynamics of the Southern Ocean. A unifying theme of his recent work is to understand change in marine communities, including to discern 'tipping points' in marine systems and identify management options to avoid them. Craig's research activity is divided between field work, which is strongly focused on conducting in situ experiments underwater, and building computer models of marine system dynamics.Craig chaired the Marine National Facility Steering Committee 2004-14, and maintains a strong interest in ensuring open access to publicly funded scientific data through work on the Steering Committee of the Australian National Data Service. He has played leading roles in a large range of national and international initiatives including establishment and development of the Australian Integrated Marine Observing System (IMOS) and eMII (its data management facility), and the Modeling and Decision Support Working Group of the World Bank Coral Reef Targeted Research Program.